Sexy, stripped down, suggestive, and reimagined: These are the words being used to describe the revival of Oklahoma!, beginning previews March 19.
It's not how the classical musical would normally be described, but like the show did more than 75 years ago, as Rodgers and Hammerstein's first collaboration, it's creating new territory in theater. "It was the Hamilton of its day," describes Todd Purdam, who recently authored the composing team's biography Something Wonderful. Fans know the plot: Laurey, a farm girl, is being pursued romantically by two rivals — cowboy Curly McLain and farmhand Jud Fry, who both want to take her to the box social — in their 1906 settler community in the western territories, a year before Oklahoma became a state. When Oklahoma! first opened on Broadway in 1943, it marked the first time a show integrated a play with song, character, and plot development along with dance to push the story forward. This new version, however, takes the grand musical production and pares it down, touching more closely on the script without losing a word.
"I really didn't expect to love this show so much."
"It surprised me so much," says Brooklynite Rebecca Naomi Jones, who played Laurey in the St Ann's Warehouse production, of this reimagined reincarnation, which does not alter a single line of text or lyric but still offers a modern interpretation of the musical. "I really didn't expect to love this show so much. … I didn't grow up on it. I was never an Oklahoma! person." At first the role didn't seem like the right fit for the actress, who has starred in the rock musicals Passing Strange, American Idiot, and Hedwig and the Angry Inch. Then a friend, who saw Jones in Fire in Dreamland at the Public Theatre, admitted she always seems to choose "interesting," "unique," and "weird" pieces of art: "'It's not like I'm ever going to see you in a production of Oklahoma!" he quipped to Jones, not realizing that this very musical was her next project for those very reasons.
This version, directed by David Fish, first premiered at New York's Bard College in 2015. It then transferred last fall to St. Ann's Warehouse in Brooklyn. The show starts with Curly (Damon Daunno) singing "Oh, What a Beautiful Mornin'" — but upends the audience's expectation of seeing Curly crooning on a horse and instead has Daunno singing the classic while strumming an acoustic guitar. "Everyone has said this to me: They hear the show differently, they experience the characters differently, and they follow the journeys and the arc of the relationship differently," explains producer Eva Price (Angels in America, Dear Evan Hansen).
Traditionally, Oklahoma! is full of dancing — backflips and switch leaps and a big production hoedown — but this version is toned down, from the choreography (by John Heginbotham) to the sets and costumes. At first, set designer Laura Jellinek couldn't imagine the show being housed at the Circle in the Square Theatre, where the Tony Award–winning revival of Once on This Island just ended its run. The theatre had been filled with animals, sand, water, and part of a semitruck. "We saw it empty and it made more sense," she said. For Jellinek, her goal was to keep the set simple and make the space feel intimate.
Costume designer Terese Wadden planned for the characters to wear the garb of everyday people, which is why she drew from denim as her inspiration. "I think that they are an expression of America and part of our history," she describes of her clothing choices. Wadden dressed actress Ali Stroker (Glee) in cutoff jean shorts and a tank top to play Ado Annie.
"I feel like there is an emphasis on who this person is in a modern world."
Stroker made her Broadway debut in the 2016 revival of Spring Awakening. Unlike Jones, Stroker was more familiar with the material after being first introduced to Oklahoma! in middle school while performing at the Paper Mill Playhouse in New Jersey. "I had known [of] the production at Bard and it got a lot of attention for being something different," she says, nothing that that was one reason why she was excited to do this production. "Ado Annie, in many productions of Oklahoma! that I have seen, feels sort of like a caricature. My version of Ado Annie, I feel like there is an emphasis on who this person is in a modern world. She's not a caricature. I think this girl is really smart and she knows exactly what she is doing."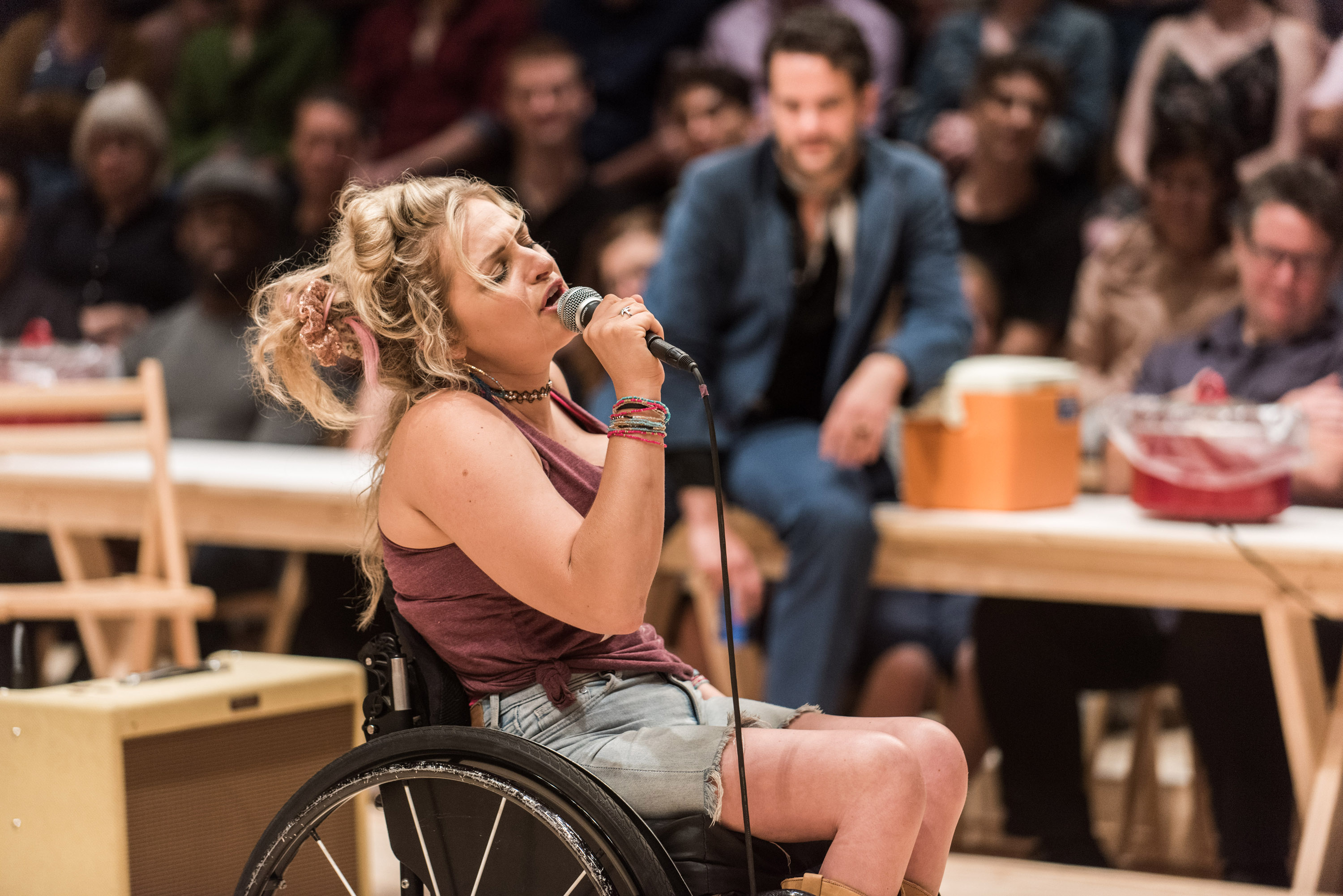 In addition, Stroker was the first to play Ado Annie in a wheelchair. When she was 2, a car accident left her paralyzed. "I hope this revival and this specific character will remind audiences that the traditional musicals and characters we've seen for many years don't always have to look the same way as they have for the past 75 years," the actress says proudly.
Broadway veteran Mary Testa (42nd Street, Xanadu) played matriarch Aunt Eller, who cares for Laurey. She's been with the production for five years. "We don't have big production numbers, so we really take our time and pay attention to the script," she explains of how this show doesn't rush through the scenes to get to the next song. "All of the darkness, racism, and sexism came out because of the way we handled it." For instance, Testa explains how Aunt Eller projects racism during the auction scene as she pushes who's going to win. "It's not all sunshine and flowers," Testa says.
"The women's voices are really heard. And I hope that people can leave the show hearing the book differently."
The actors were directed to dig into the subtext that that's already there. "[Laurey] is aware that she lives in a small pocket of the world," Jones says of her interpretation. "She might desire to stretch beyond that, but she may not be able to, because of her circumstances. Conflicted feelings Laurey has toward Judd, for example, has led our production to have some questions about Laurey's sexuality." Stroker adds, "The women's voices are really heard. And I hope that people can leave the show hearing the book differently." Vulture observed: "In a sense, we're watching Ado Annie and Laurey in their last days of freedom — one playful and unapologetically thirsty; the other restrained, anxious, and wistful, but no less desirous."
Who do you please with this revival, then, when there are those who love a traditional classic and those who look for something that makes them uncomfortable? "Both," declares Price. "It's a constant challenge to create messages for both audiences." Explains Testa, "It forces you to look at the history, how this country was formed and how it's really not so pretty." The original version and even the 1955 movie starring Gordon MacRae and Shirley Jones hinted at some of the dark themes, but this show goes even further. And theater critics agree: A New Yorker headline praised: "An Oklahoma! for Today." The Observer called it "sexy, suspenseful and surprisingly modern."
Three quarters of a century after Oklahoma!'s first run, one that lasted for 2,212 performances before closing on May 29, 1948, the musical is still doing fine. "It holds a mirror up to all the goodness and also all the darkness. I think it's really important right now," says Testa, adding: "I'm thrilled to get another go at it because there's still some stuff I want to figure out."