Features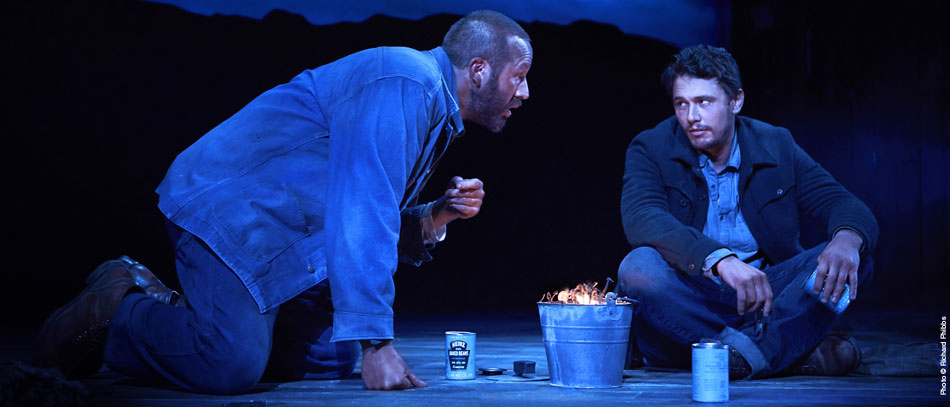 Stage, Screen, and in Between
NOV 4, 2014
In the five and a half years since London's National Theatre launched its NT Live screening series, savvy audiences around the world have embraced the opportunity to see great stage performances and productions captured live in high definition for broadcast at more than 2,000 local cinemas.
Taking his cue from the Metropolitan Opera, National Theatre artistic director Nicholas Hytner led the way in establishing NT Live in 2009, driven by a desire to share his company's productions with as many people as possible. "It started as an experiment," says NT Live lead producer Emma Keith, "and we quickly discovered that live broadcasts allow us to engage an audience not just in the U.K. but internationally."
A particularly starry season is under way at NT Live, which has expanded its reach to the West End, other London theater companies, and now Broadway. Recent premieres include A Streetcar Named Desire, starring Gillian Anderson and Ben Foster, and the Broadway-bound drama Skylight, starring Carey Mulligan and Bill Nighy. On November 6, the series crosses the Atlantic for the first time with the premiere of the sold-out 2014 revival of John Steinbeck's Of Mice and Men, starring James Franco and Chris O'Dowd.
Meticulous planning and collaboration between the stage and screen teams set NT Live productions apart. One of Hytner's smartest initial moves was to call in multicamera director Robin Lough, who has since helmed 15 NT Live broadcasts, from the very first (Phedre, starring Helen Mirren) to Of Mice and Men. Lough and Keith recently filled Broadway Direct in on the painstaking process behind this unique marriage of theater and film, "a new art form," says Keith, "that preserves the integrity of what's onstage and gives the cinema audience the best seats in the house."
Lough laughingly shoots down the first misconception about NT Live broadcasts: that they're filmed piecemeal over the course of several performances and then edited together. Even two-time Tony winner Stephen Daldry, director of two Broadway-bound hits captured by Lough (Skylight and The Audience, starring Helen Mirren), was taken aback when told that onstage costume changes couldn't be shortened in the editing room. "We were chatting about the shots," says Lough, "and he said, 'You don't mean this is live live?' And I said, 'When it's happening in the theatre, it's happening on the screen.'" U.K. cinema audiences see the show in real time, and nothing is changed for subsequent screenings in 40 countries. (Of Mice and Men is a rare exception to this rule: Because of a compressed time schedule, the show was recorded before an invited audience two days after it closed in late July.)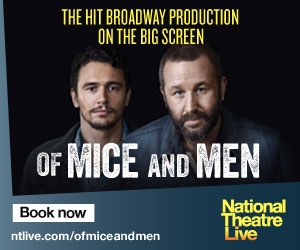 The process begins when the camera director watches a rehearsal or an early performance of the play. "I'm sitting and thinking about how many cameras I'll need and where they should be placed," Lough explains. "Normally the number is five or six. When I saw Of Mice and Men, I thought, This can be done with four cameras plus a tracking camera across the front of the stage to get lateral movement. Those two guys, James Franco and Chris O'Dowd, were so fantastic, they had done most of the work for me. Beyond that, the staging, the design, and the music made it a completely fresh experience."
At that point, Lough consults with the stage director — Tony winner Anna D. Shapiro, in the case of Of Mice and Men — to discuss the overall plan for shooting the show, then spends three or four days studying the script and a crude tape of the performance in order to construct a camera script specifying every shot, line by line, and which camera will capture each moment.
"People often ask me how many shots there are, and I never have any idea until my assistant, who types the script onto cards for each cameraman, tells me," Lough says. "With a long Shakespeare play, it can be more than 1,000." A few days later, the cast comes in for an initial camera rehearsal, running through the play as Lough sits outside in a control center truck, flanked by an assistant who calls the shots to the camera operators and a technical director who cuts from camera to camera.

"The next step is crucial," Lough says. "I sit with the stage director and we go through [the footage], because there are bound to be details that I'm missing. She might say we need a wide shot between scenes so you can see the set do a certain thing, or we might be missing an important reaction shot. All of these comments are really, really helpful." After adjustments to the camera script, the cast returns for a dress rehearsal, followed by final tweaks, followed by the main event — the live performance. In London, Lough says, the stage director often heads to the local cinema to see his or her work on the big screen, surrounded by an audience that's watching the theatrical audience enjoy the show.
Some might argue that this labor-intensive, three-part operation could be streamlined by eliminating the audience and staggering filming over several days. The NT Live pros respond that their method is the key to the series' success. "Unlike an archive film, we're capturing a single performance," says Keith, "which encompasses the nature of theater itself. The cinema screening retains that sense of event: You buy your ticket and watch with an audience, and the artists on stage are engaging with their audience as well."
Lough, who previously filmed opera productions in an empty theatre, adds, "It's hugely helpful to hear the audience reacting. If someone on stage does something funny and nobody laughs, it's deadening. We start with a shot establishing the fact that we're in a theatre, and pull back to show the audience between scenes and before the interval. We always remind the cinema audience that they're watching something in the theatre. We're not pretending."
Of course, any live performance involves risk, but Lough has only had one potentially ruinous experience, when high winds affected the satellite feed for several minutes during a performance of King Lear. When the problem was fixed, the actors backtracked to the beginning of the disrupted scene, to the delight of cinema audiences.
Thanks to social media, NT Live receives plenty of immediate feedback on each production, and the vast majority is warmly supportive. "It's so gratifying to get an email from someone in a small town in Finland saying, 'We don't have theater here, but we love watching shows from your National Theatre at our local cinema,'" says Lough. Sifting through Facebook comments and tweets, Keith says, "teaches us that we're giving the audience what it wants: the chance to engage with high-quality theater, filmed in a high-quality way, and accessible to everyone."
#TGIFTunes -...
A New Wave of Bro...
You might also like: