Even before Khori Petinaud got pregnant, she knew she wanted to have her baby at home.
"The main reason was because I actually had a lot of fear around being a Black woman and birthing in a hospital," she says. In a phone conversation while walking outside with her 3-month-old son, Carver Elijah, the Moulin Rouge! ensemble member cites startling statistics from the New York City Health Department that Black women are 12 times more likely to die from pregnancy-related causes than white or non-Hispanic women. She and her husband, Wayne, had looked into a specialized birthing center, but opted for their Brooklyn home instead, with help from a midwife and a doula.
"It was the only option for me, to have the team I wanted and to know that those people were going to be with me no matter what," she explains of her decision. "To also feel safe and supported."
In honor of Mother's Day, Broadway Direct spoke with Petinaud and three more Broadway performers who had babies during the pandemic: Caroline, or Change's Caissie Levy (her two kids are Talulah, 4 weeks, and Izaiah, 5), Jagged Little Pill's Heather Lang (Felix, 3 months, and Viviana, 3), and The Cher Show's Ashley Blair Fitzgerald (Rowen, 5 months, and Eden, 4).
---
What was your reaction when you found out you were pregnant?
Caissie Levy: We were deliberately trying to get pregnant. It wasn't until I stopped working and stepped off the treadmill of Broadway that I felt the true longing to want this second child. We thought, Now's our chance. We didn't know how easy or not it would be, so we were really excited when we got pregnant. It was something we've wanted for a while, and so we feel really fortunate.
Ashley Blair Fitzgerald: Before the pandemic, there were these projects looming, and so I wanted to wait. Then the Broadway shutdown happened, and we decided maybe this was the right time. So we went for it.
Heather Lang: It wasn't that I was surprised. We always talked about having a second kid. In my mind, I wanted to wait until after the Tony Awards. So when the pandemic hit, we thought maybe we should try. Of course, the first time it worked. The minute you take the pressure off something — a lot of times things open up.
Khori Petinaud: I was shocked — not because I didn't want to be pregnant, but because we had actually been trying to get pregnant. When Moulin Rouge! opened to really great reviews, it seemed like it might be a really great opportunity for us to try to have a family where I could have a job to come back to. So my husband and I decided we were going to start trying for a baby and whenever it happens, it happens. My perfect dream was, I wanted to get pregnant and still be able to do the Tony Awards and then take a maternity leave.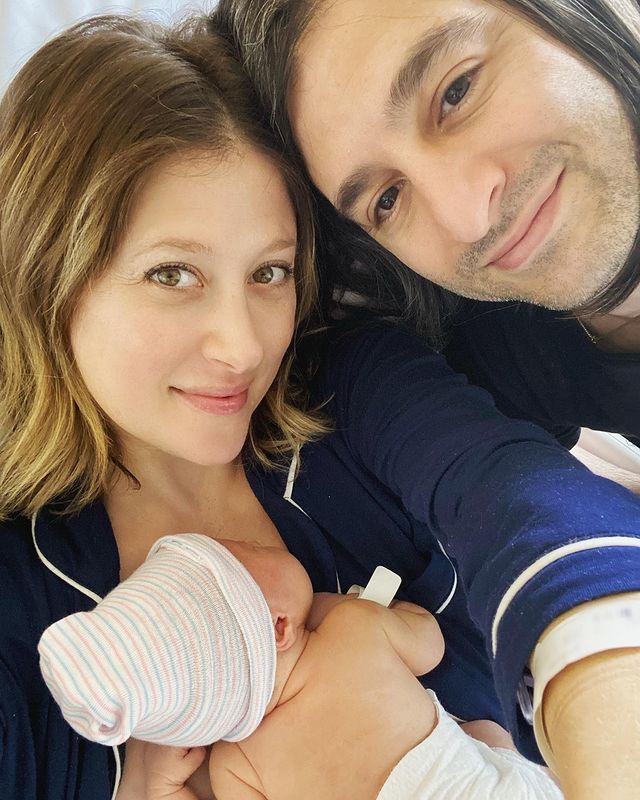 Did the pandemic change or speed up your family timeline?
Caissie: One hundred percent. I was about to open Caroline, or Change. I don't know that we would have tried for a child at all during that contract. So who knows what would have happened and if we would have ever had this baby? So it is weird how the world works.
Khori: When I found out I was pregnant [last] April, I think my body was telling me I needed to rest in order to do this thing that I wanted to do.
Heather: It's simultaneously amazing that the pandemic happened and I can have a kid now. But it's also sad to me that, as a woman, now I can do it because I have all this downtime.
Ashley: It was like a little nudge, because we were ready to do it.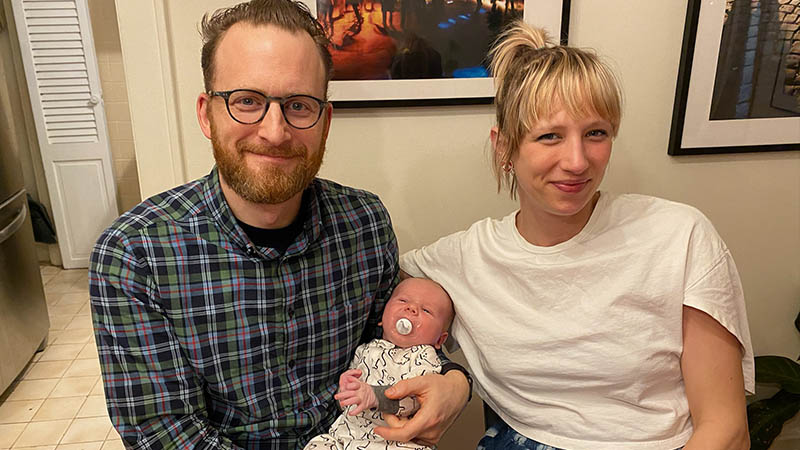 What have been the challenges of having a baby during the pandemic?
Heather: It's sad. I definitely feel a huge loss. [Jagged] was a whole family and community, beyond being some of the best material I've ever performed. There was no time to even mourn it. Being a mom, there is no time off. I don't have the babysitters, I don't have schools because everything is closed. It's also a rebirth and a beautiful thing because I've seen things about my kid that I never saw before.
Caissie: It was a weird year to be pregnant, that's for sure — very isolating, more so than it normally is. We went to stay with my folks in Canada for five months. I was nervous because I had a very scary and complicated pregnancy the first time around. I was living in the doctor's office the entire pregnancy with my son. All of that was definite baggage I was bringing to the second pregnancy. Then, you add COVID: the unknowns, worries about exposure, and my husband not being able to come to the appointments. But I just tried to keep my eye on the prize. I was very fortunate this time around that I had a textbook pregnancy. I was able to do a lot of telehealth appointments, which took the stress off a little bit.
Ashley: It has its ups and downs. I'm not a nursery school teacher by any means, and there's definitely a reason for it. On the flip side of that, I would never have had this kind of time to be with my family as a whole because my husband travels a lot for work. Since he's not doing that, it's been a huge blessing to have.
Khori: My mom came to stay with us for the first week he was born, and that was really helpful. I know I would have elicited a lot more help if we weren't in a pandemic.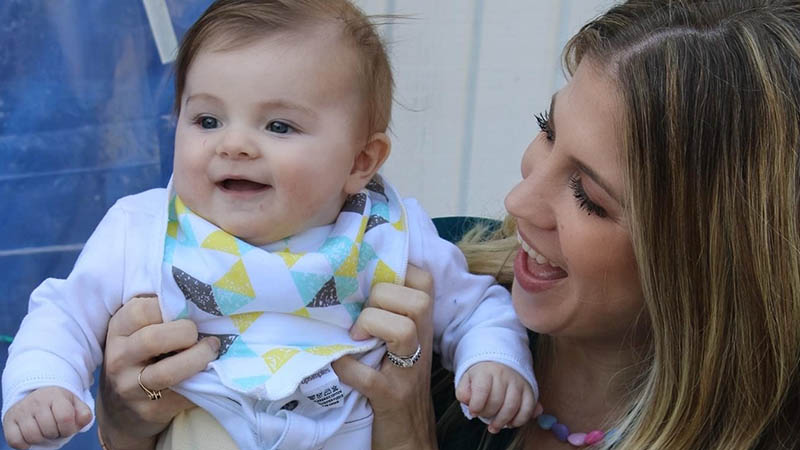 Are you nervous about going back to auditions and having to bring that aspect of your life back in, given all that's changed for you in the past year?
Ashley: I'm not. After having Rowan, I took my time and was able to rehab a lot of things that needed to be rehabbed. I am a little bit older and my body needed it. I'm glad I didn't have to spread myself too thin. With Eden, I wanted to get back to class right away. I auditioned for The Cher Show eight weeks after I had Eden. I had total FOMO and I just wanted to get back on stage. I suffered some possible injuries from going back too soon. With Rowan, I wasn't able to start taking class until about eight weeks postpartum.
Khori: What we've been through in this past year has been so life-altering that I can make anything work. As a dancer, the body changes were really hard. I definitely had a dreamy version that I was going to give birth and then all of a sudden be right back to what I was doing before. That wasn't the case.
Caissie: I already needed a ton of help from babysitters and family members just to navigate one child and a Broadway career. So I am quite nervous about how I will juggle it all. When Caroline, or Change opens again, I have to trust it'll work itself out. I've gotten better over the years asking for help. I find that as a parent who works every single night and isn't home for dinner, bath, and bedtime, I need to ask for even more help.
Heather: I feel like the second time around trashed my body more. I gained more weight. I know I have the capacity because the body is so resilient. My biggest fear is getting back into that level of physical shape, because the eight shows a week are grueling.
Do you think there is a stigma associated with moms on Broadway?
Caissie: I don't think it's valuable to think about what the producers are going to say. I know my own value enough to know that if somebody wants to hire me to do a show, it's because they think I'm the best person for the role. If they're behind the scenes discussing if I am going to be devoted to the show enough because I'm a mother, then I don't want to work for that person anyway.
Heather: As a dancer, you don't want to tell anyone you're pregnant. It's the culture.
Khori: I think dancers often will put off starting families because for a long time we were made to think that you can't have both. Over the past 10 years, I've started to see that narrative really shift and it really encouraged me that my career was not going to be over just because I had a child. I saw so many incredible dancers come back better than ever after having their babies.
Ashley: The industry doesn't give you the time to have a baby. When is the right time? That's always the question, because you never know when a project is going to pop up. When you have the baby, they want you to look exactly how you looked before you got pregnant in a couple weeks. Now, do people say that? No. Do they think it? Yes. I don't fault anybody for it, but it's totally the way that it is. The silver lining for me is that I've been given the time that I never would have had. When I was pregnant with Eden, I missed out on three projects: ensemble in Charlie and the Chocolate Factory, a Twyla Tharp tour, and I can't remember the third.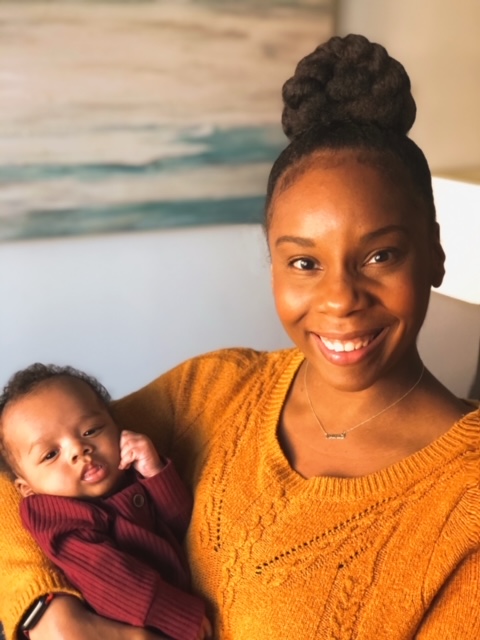 What is your hope for mothers going back to their shows?
Khori: There should be some paid maternity leave. Without it, it sort of continues to facilitate the narrative for women who are in Broadway shows that you can't do it.
Caissie: I would like to see our union step up in a much larger way. They need to advocate for mothers. We've been pushing to get better health coverage. We accrue years of work, and so many of us while pregnant lose our health insurance because we can't work. The system that's currently in place does not really support mothers and families on Broadway. That needs to change 100 percent because the times have changed.
Ashley: Doing rehearsals from 10 a.m. to 6 p.m. is the worst time for a parent. You miss everything. I would love to see a straight six-hour day. They have those, but you have to vote on them. I hope that this pandemic has shown that we need to pause, take time, and apply that to things that really do need it, which is our bodies and our health.
Heather: I do wish that there was more support, more flexibility. I don't know if it would be one less show so you could juggle this a little easier.
Who is your Broadway Mama icon?
Khori: Bahiyah Hibah. Moulin Rouge! was the first time I was able to work with her. Being in her presence was the push I needed to finally feel like I'm ready to have a baby. If she can do it, I can do it.
Heather: LaChanze. I remember talking to her at the opening-night party. She told me what she had to do and how she did it so gracefully.
Ashley: Ann Reinking. May she rest in peace.
Caissie: I look up to the women who are a few years ahead of me. I idolize Audra McDonald, Kelli O'Hara, Sutton Foster, Patti LuPone. There are so many strong women on Broadway who have managed to do both, and they are the template for me to remind myself this can be done.
What's the first show tune or cast album you played for your children?
Khori: Hamilton.
Ashley: We actually haven't gotten to that yet. He's into "The Itsy Bitsy Spider."
Caissie: Oh, gosh, I haven't played a Broadway album for her yet.
Heather: I feel like I haven't even done one play of the album with him yet. I really need to play something for him.