The coveted winners of the 2022 National High School Musical Theatre Awards, also known as the Jimmy Awards, have been crowned. Taking home the top prizes of Best Performance by an Actor and Actress along with a $25,000 scholarship are Nicholas Barrón of San Antonio, Texas, and Kendall Becerra, of San Diego, California, respectively.
"It feels like I'm floating!" exclaimed Becerra after winning. "I know it sounds cheesy, but I genuinely have no words. I had no expectations going into this week and coming out of it with this is insane. I definitely need someone to pinch me."
"I still feel like it hasn't sunk in yet," said Barrón after the night held at the Minskoff Theatre where The Lion King currently plays.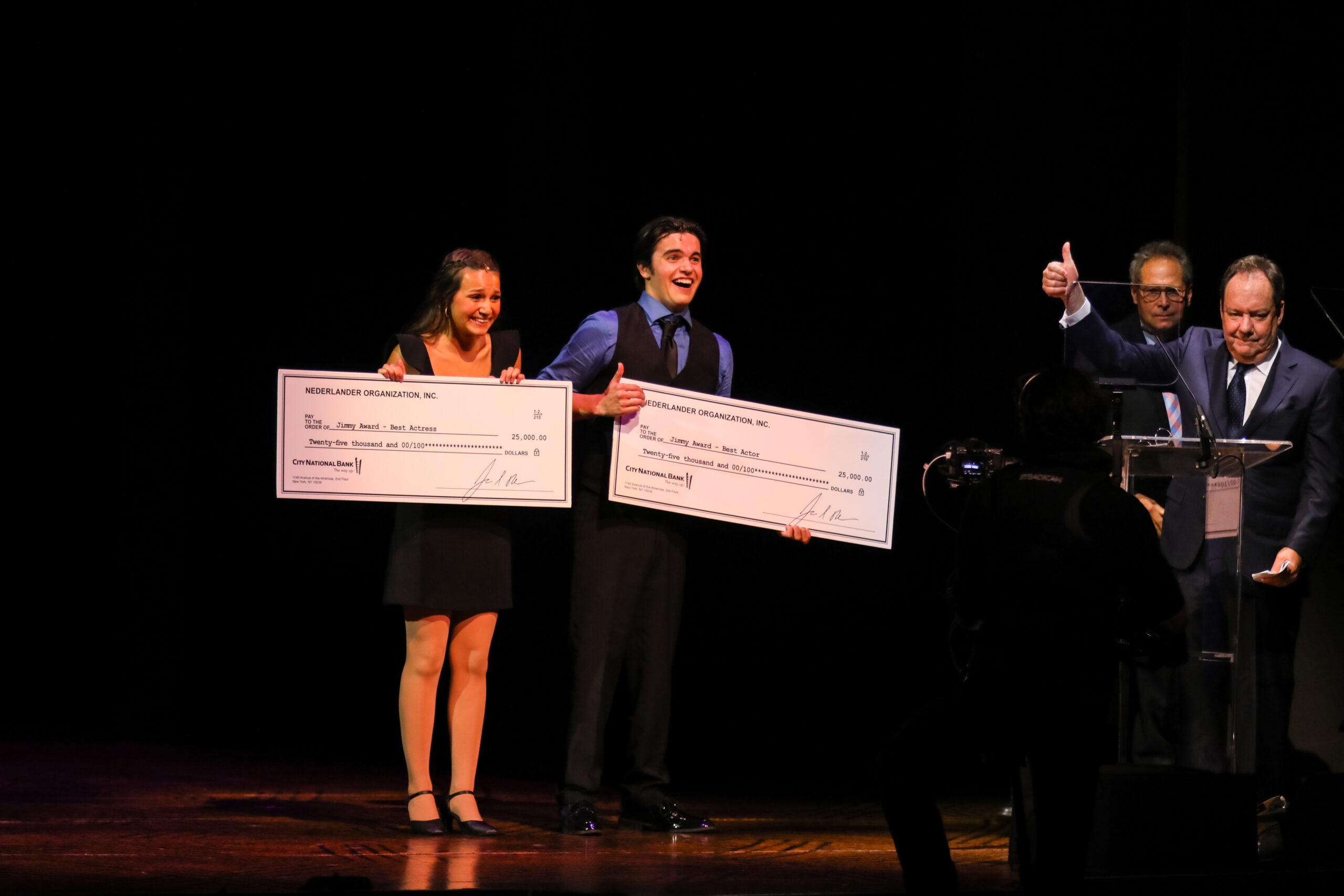 This year, a record-breaking 92 students, who were chosen for the program from 46 regional high school musical theater award ceremonies across the country, flew to New York City for the showcase. The annual ceremony celebrates the talent of high schoolers across the country, and it's the first time the ceremony was held in person since 2019 due to the pandemic. Over the course of the last week, they trained with numerous Broadway professionals at Juilliard's campus, saw their photos on a billboard in Times Square, and were treated to tickets to Moulin Rouge! The Musical.
To get to New York, four students got on a plane for the first time, 24 are in New York City for the first time, and 29 saw a Broadway show for the first time.
"The most exciting part has just been meeting so many people: both the professionals and the fellow nominees," Isabella Paragas, 15, of Franklin High School in Elk Grove, California said of the experience. "I really hope I get to maintain these connections that I've made and I still am friends with everyone as the time passes."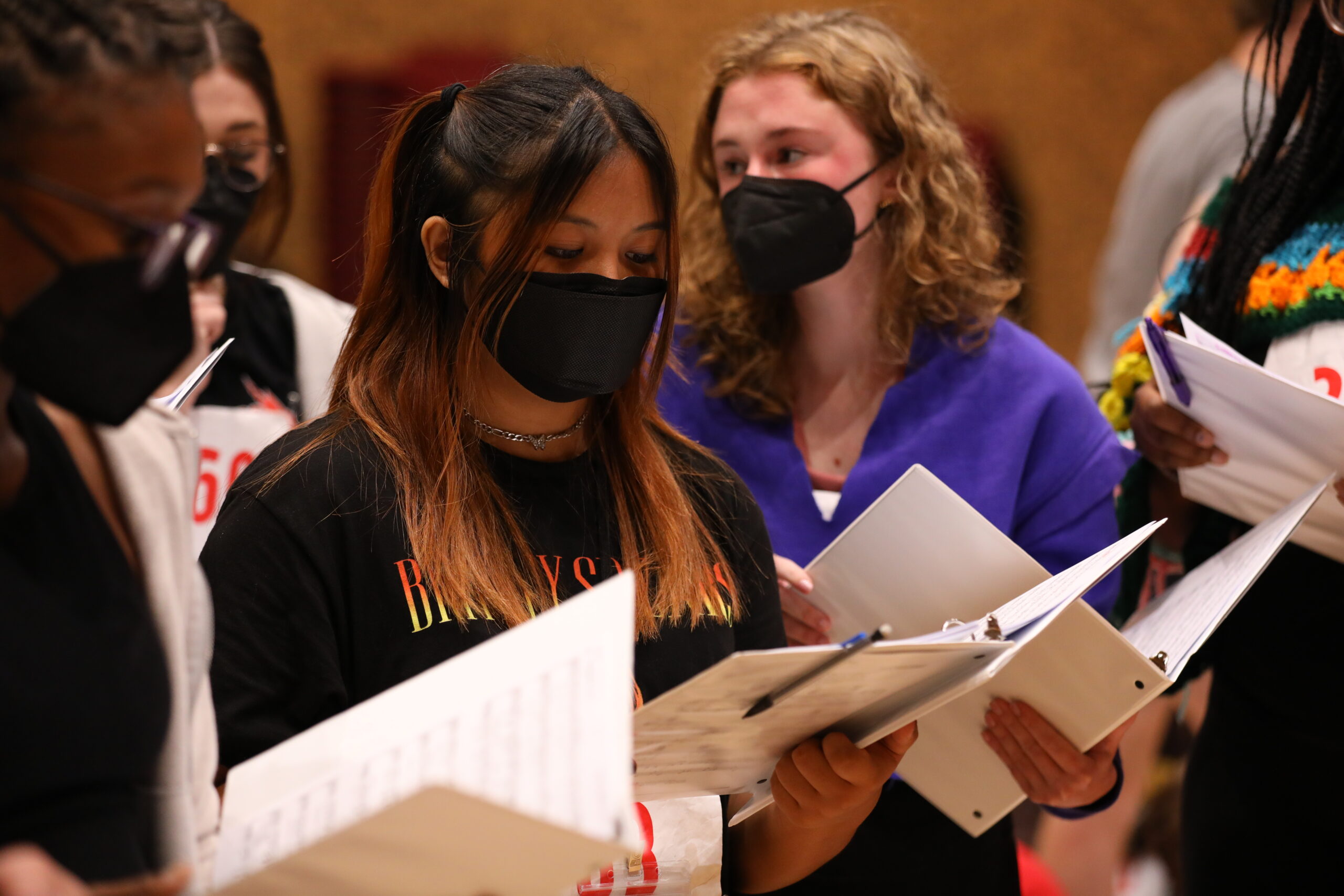 The Jimmy Awards are named after the late producer James M. Nederlander and produced by The Broadway League; which has been the catalyst for more than $4 million in educational scholarships.
Over the years, the Jimmy Awards have catapulted the careers of so many rising Broadway stars including The Prom's Sofia Deler, Jagged Little Pill's Antonio Cipriano, Mean Girls' Renee Rapp, Kyle Selig, Hadestown's Eva Noblezada, Almost Famous' Casey Likes, and Dear Evan Hansen's Andrew Barth Feldman.
Paragas first discovered the Jimmy Awards when she was YouTube surfing back in middle school. She had watched a performance of 2011 winner Ryan McCartan, who later went on to be a Disney star.
"I remembered that performance for years and years," Paragas told Broadway Direct prior to Monday's event. She was part of the musical medley where she sang a solo from "Get Out and Stay Out." "So being here now, it's just absolutely amazing. We are constantly working on cleaning or formations. There's not a moment to waste."
Nominee Yale Langworthy, 18, of Meridian, Idaho points to the success of Andrew Barth Feldman for why this competition is critical for aspiring actors like him.
"He's obviously an icon because he went on to do Dear Evan Hansen for so long," he told Broadway Direct. "He blew up the Jimmys as a big name."
Jimmy Awards host Kate Reinders even worked with Feldman on Season 2 of High School Musical: The Musical: The Series. "He was brilliant, so talented!" she told Broadway Direct.
Reinders, who has starred on Broadway in Gypsy, Wicked, and Something Rotten!, was the perfect choice to host this year's award show coming off three seasons as the drama teacher, Miss Jenn, on the Disney+ show. She's about to begin production on season four.
"I have loved working with the kids on HSMTMTS more than I can express. I'm their 'show mom,' their cheerleader, and their biggest fan. The Jimmy Awards is all about celebrating young talent and giving them love and support. I am honored to be a part of it!" she said of the opportunity, noting her advice to all the participants as many begin their professional careers is to "work hard and be nice to everyone."
The showcase also featured a selection of numbers composed by women and a tribute entitled "Shubert Salutes Sondheim."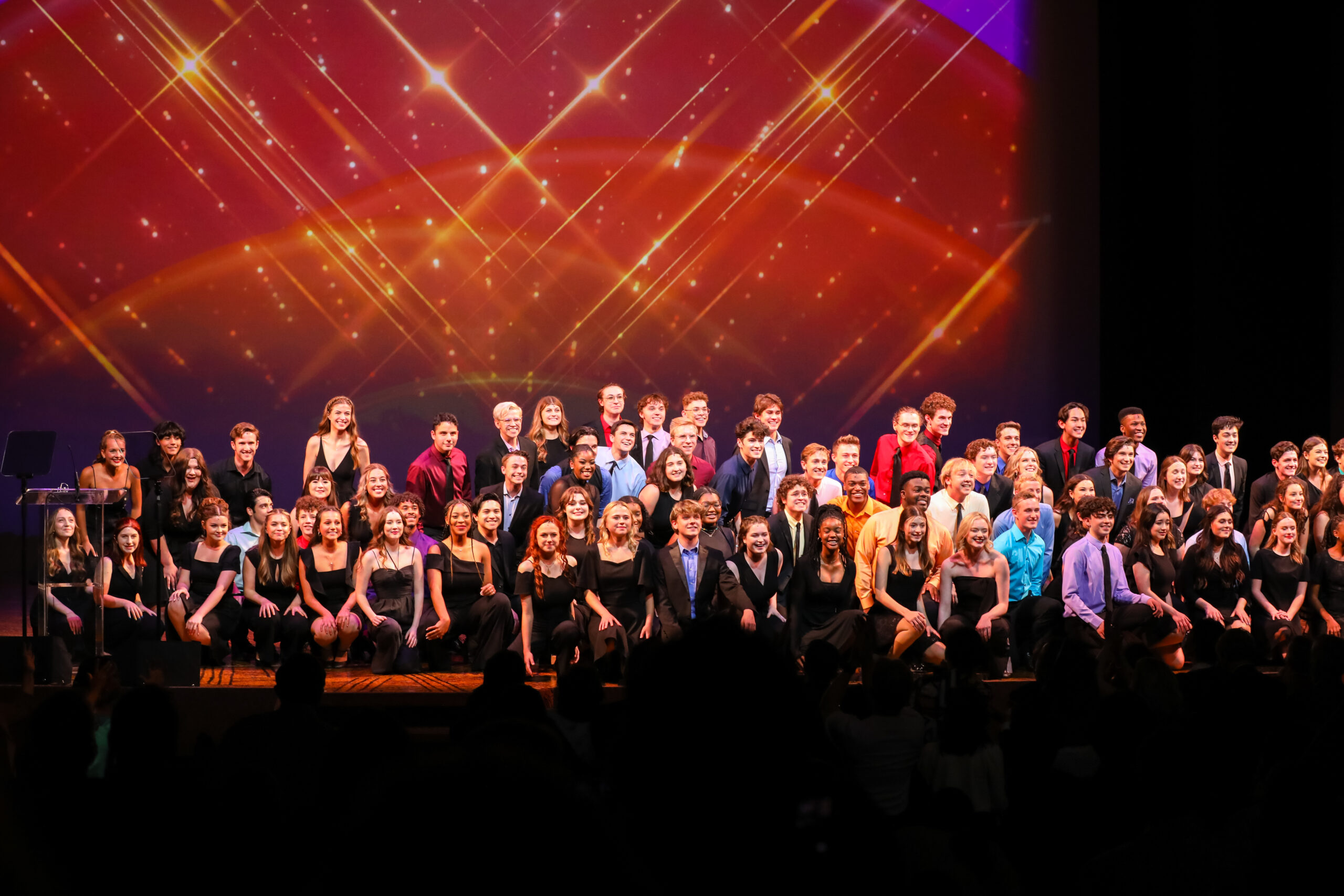 Langworthy, who was part of the Sondheim tribute (a 10-minute 36-pager), has a genetic disorder called Retinitis Pigmentosa, or RP for short. He says it's been challenging to perform especially when stages are often dark. His retinas are slowly deteriorating and he has zero night vision.
"Anything in a darker space is kind of hard," he explained. "So it's kind of ironic that I picked theater as a career because it's always so dark." But his former high school castmates and the new ones he made this past week have been a lifesaver. "I have the best colleagues when it comes to entering the stage in a blackout, leaving the stage in a blackout, or moving across a set piece that I can't quite see correctly."
Becerra and Barrón both advanced to the top eight where they each performed solos. Becerra sang "Breathe" from In The Heights and Barrón sang "This Is Not Over Yet" from Parade. The scholarship will help Barron once he goes to college. He will be a senior next year. "I have two sisters in college right now. So this is a huge help to my family in terms of helping pay for further education in order to pursue this as a career," he said.
For Becerra, the most challenging part of the week for her was "staying out of my own head and trusting myself," she said. "Every single nominee is extremely talented and being in a room with that many excellent performers can be intimidating. But at the same time, it was encouraging to be in a room with so many creative people. It truly was a blessing."
The best part of the entire night was right before showtime.
"On the day of the performance, we all stood in the lobby and took our final breaths together as the 2022 cast. That was my favorite moment. Being able to share a moment of stillness in a world full of chaos. It was beautiful," Becerra described.
In the fall, she will be attending Marymount Manhattan College. But if she was on Broadway now, Eurydice in Hadestown would be a dream.
"She is such an interesting character that goes through so much in one show. I feel like it would be awesome to walk through that journey with her," Becerra said.
Barrón is intrigued by the upcoming Almost Famous musical. "It's one of my favorite movies and the creative looks incredible, I'll definitely want to check that out." 
Stream The Jimmy Awards through June 30, 2022.