New York audiences first made their acquaintance with three of this season's Tony-nominated shows—Disgraced, Fun Home, and Hand to God—Off-Broadway in seasons past. Take a look at our round-up of notable new American plays that just might be next year's Tony nominees.
It's no secret that new American plays face a harder path to Broadway than classic revivals, mega-musicals, or imports from Britain. And that's mostly due to economics. The dedication and long commitment required to nurture a new work, or a new playwright, is more likely found in a not-for-profit environment than on Broadway, where market forces don't determine the fate of a production.
That's why New York audiences first made their acquaintance with two of this season's Tony-nominated new plays Off-Broadway: Disgraced, Ayad Akhtar's incendiary drama about race and prejudice, received its New York premiere in October 2012 at LCT3, Lincoln Center Theater's developmental space; and Hand to God, Robert Askins's darkly funny tale about a demonic sock puppet, which began life Off-Off-Broadway in 2011 at the Ensemble Studio Theatre and transferred last year to the MCC Theater Off-Broadway before making it to the Booth Theatre.
Musicals don't have it easy either. Best Musical nominee Fun Home, Lisa Kron and Jeanine Tesori's tender musical adaptation of Alison Bechdel's graphic novel about a young lesbian cartoonist's coming of age, was first produced downtown at the Public Theater in 2013, prior to its current incarnation at the Circle in the Square. And the upcoming new season's most eagerly anticipated event, Hamilton, Lin-Manuel Miranda's vibrant new musical about founding father Alexander Hamilton, arrives at the Richard Rodgers Theatre after a sold-out Off-Broadway run at the Public earlier this year.
In the next couple of months, theatergoers in New York have the opportunity to sample a feast of promising new plays — from both well-known and relatively new American dramatists — all of which are to be found on prominent New York resident theatre stages Off-Broadway. Here is a sample.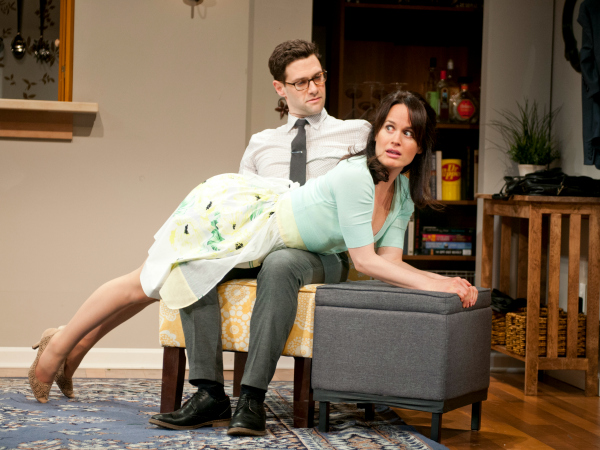 Permission by Robert Askins
MCC Theater at the Lucille Lortel Theatre, through June 14
Having set his satanic puppet loose on Broadway, Hand to God playwright Askins now introduces us to the illicit thrills of CDD — Christian Domestic Discipline. In this subversive sex comedy, good Christian husbands spank their wives when they commit transgressions, all in accordance with strictures in the Bible. But is everyone enjoying this punishment just a little bit too much? Permission is directed by Alex Timbers, Tony nominee for Peter and the Starcatcher. Learn more and buy tickets.
Photo: Justin Bartha and Elizabeth Reaser. Credit: Jenny Anderson.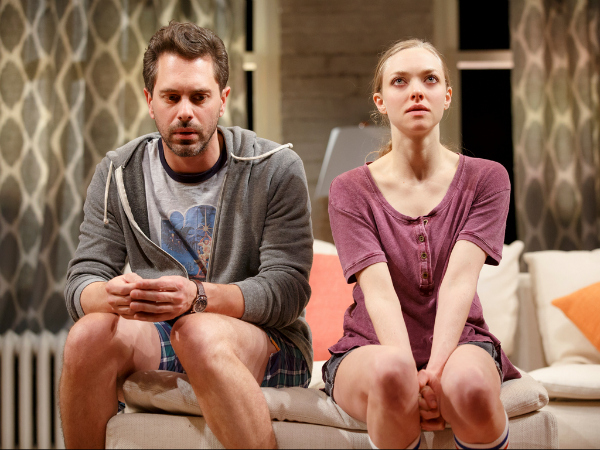 The Way We Get by by Neil La Bute
Second Stage Theater, through June 21
A new play from the playwright whose Broadway debut, Reasons to be Pretty, received a Tony nomination for Best Play in 2009, the romantic comedy about two people who wake up after an ecstatic night together, only to face some awkward questions and some spilling of secrets, features Amanda Seyfried (of Les Misérables and Mamma Mia! movie fame) making her stage debut and Thomas Sadoski (best actor Tony nominee for his performance in Reasons to be Pretty). The Way We Get By is directed by Leigh Silverman (Tony nominee last year for Violet). Learn more and buy tickets.
Photo: Thomas Sadoski and Amanda Seyfried. Credit: Joan Marcus.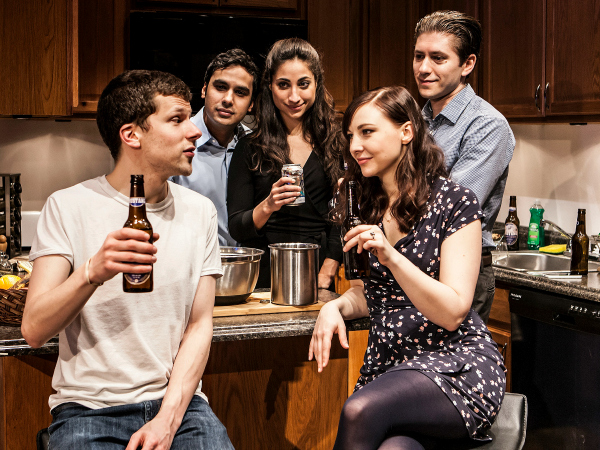 The Spoils by Jesse Eisenberg
The New Group, through June 28
Playwright Eisenberg, who is best known for his 2011 Oscar-nominated performance as the founder of Facebook in The Social Network, made his playwriting debut with Asuncion, which premiered Off- Broadway in 2011. His next play, The Revisionist, also produced Off-Broadway, provided the great Vanessa Redgrave with a memorable role in 2013. His latest is a dark comedy about a tortured grad school dropout who intimidates his Nepalese immigrant roommate, who is also his only friend. Eisenberg plays the obnoxious bully and The Big Bang Theory's Kunal Nayyar, the roommate, a character based on a real-life friend of the playwright. The Spoils is directed by The New Group founder Scott Elliott. Learn more and buy tickets.
Photo: Jesse Eisenberg, Kunal Nayyar, Annapurna Sriram, Erin Darke, and Michael Zegen. Credit: Monique Carboni.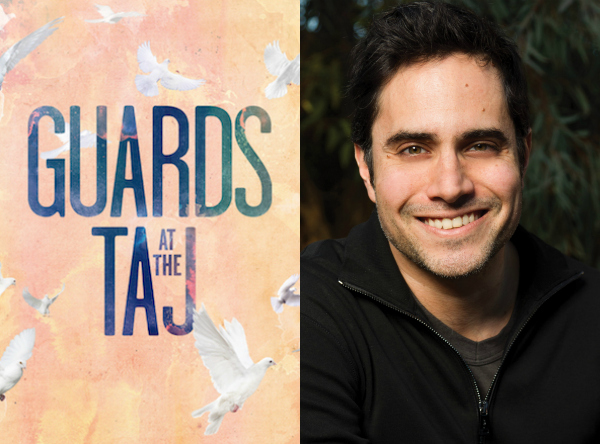 Guards at the Taj by Rajiv Joseph
Atlantic Theater, through June 28
The new play from the author of Bengal Tiger at the Baghdad Zoo (which starred Robin Williams on Broadway) is a black comedy about two hapless guards assigned to protect the Taj Mahal in 17th century India on the morning the magnificent edifice was unveiled. The two men, played by Omar Metwally (Tony nominee for Sixteen Wounded) and Arian Moayed (Tony nominee for Bengal Tiger) are swept up by the awe-inspiring beauty of the monument and the bloody price that was paid to build it. Guards at the Taj, which recently won the 2015 Laurents/Hatcher Award for new play, is directed by Amy Morton, who received Tony nominations for her performances in August: Osage County and Who's Afraid of Virginia Woolf? Learn more and buy tickets.
Photo: Rajiv Joseph.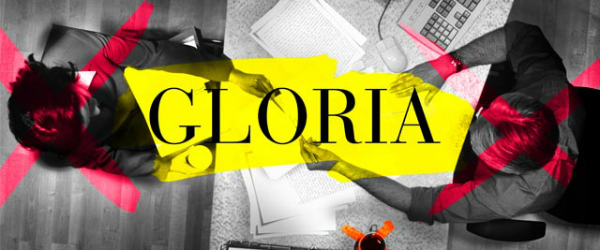 Gloria by Branden Jacob-Jenkins
Vineyard Theatre, through July 3
Last year, Jacob-Jenkins won the Obie Award for Best New American Play for two thought-provoking plays — Appropriate, which examines the legacy of American racism through the lens of a white family's reunion in Arkansas, and The Octoroon, a wickedly funny adaptation of Dion Boucicault's 1859 melodrama that turned conventional notions of slavery on its head. His new work is set in the editorial offices of a Manhattan magazine (not unlike The New Yorker, where the playwright himself spent a few years working), following a group of ambitious young assistants who want to score success in the publishing world before they hit 30. Gloria is directed by Evan Cabnet. Learn more and buy tickets.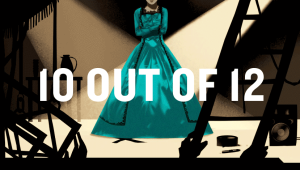 10 out of 12 by Anne Washburn
SoHo Rep, through June 21
Many plays have taken us backstage to give us an insider's view from the wings, but never quite like this. Playwright Washburn — whose previous Off-Broadway success, Mr. Burns, a Post-Electric Play, a postapocalyptic comedy that finds redemption in a famous episode from the Simpsons — literally puts the spotlight on a tech rehearsal for a play, the fraught last days before the public attends, when the actors integrate their previous work with the mechanics of sets, lights, sound, and costumes for the first time. The play, which takes its title from the actors' union stipulation that performers can only work for 10 hours out any 12-hour period, is a kind of backstage farce based on the playwright's own experiences from sitting through a decade of production work on her own plays. 10 Out of 12 is directed by Les Waters, artistic director of the Actors Theatre of Louisville. Learn more and buy tickets.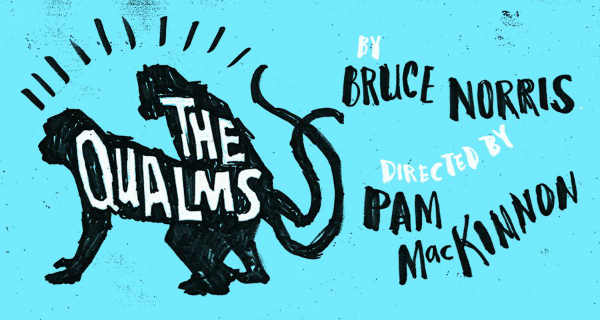 The Qualms by Bruce Norris
Playwrights Horizons, through July 12
Playwright Norris's breakthrough work, Clybourne Park, a sharp and witty look at racism and real-estate aspirations, transferred from Playwrights Horizons to Broadway in 2012, wining the Tony and Pulitzer awards for Best Play that year. In his new play, a comedy about polyamorous couples at a swingers' sex party, Norris continues his examination of the hypocrisies deep within contemporary liberal society. The Qualms, which received its world premiere last year at Chicago's Steppenwolf Theatre Company, is directed by Pam MacKinnon, who received a Tony Award for the recent Broadway revival of Who's Afraid of Virginia Woolf? Learn more and buy tickets.


Significant Other by Joshua Harmon
Roundabout Theatre Company, through August 16
Playwright Harmon's first play, Bad Jews, a savage comedy about people behaving badly, became an instant hit when it debuted at the Roundabout Underground space in 2012. It moved into a larger space the following year and subsequently became the third most produced play around the country this season. His new work centers around a young gay man nearing 30, who is single and lonely in the city and whose life gets to be even more unbearable when his best girlfriends start getting married. Significant Other is directed by Trip Cullman. Learn more and buy tickets.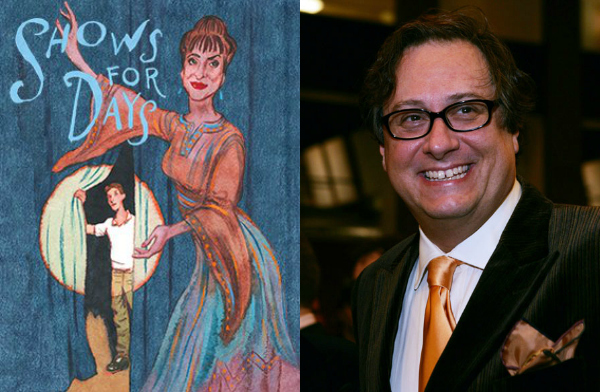 Shows for Days by Douglas Carter Beane
Lincoln Center Theater, June 6- August 28
Two-time Tony winner Patti LuPone (Evita, Gypsy) and Ugly Betty's Michael Urie headline an autobiographical drama from the author of The Little Dog Laughed (2007 Best Play Tony nominee) and the 2013 Broadway valentine to vaudeville The Nance. Urie plays Beane's alter ego, a stage-struck kid who wanders into a community theatre in Reading, Pennsylvania, that is run by a commanding diva who directs, designs, and stars in her own productions. Shows for Days is directed by Broadway veteran Jerry Zaks (Tony winner for Six Degrees of Separation, Guys and Dolls, Lend Me a Tenor, and The House of Blue Leaves). Learn more and buy tickets.
Photo: Douglas Carter Beane.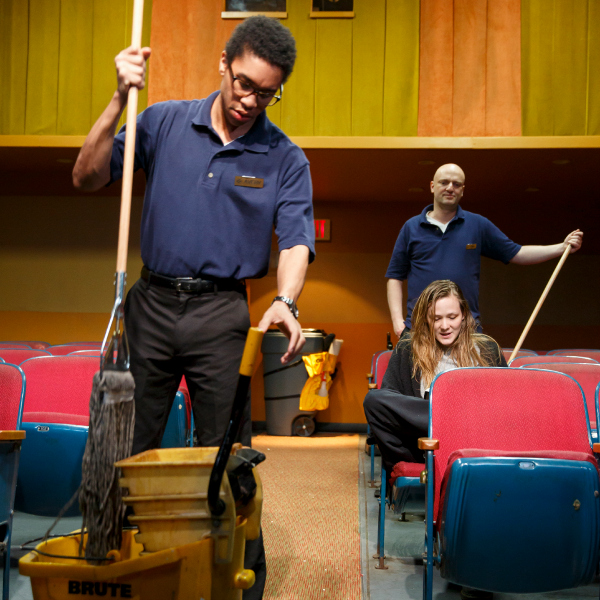 The Flick by Annie Baker
Barrow Street Theatre, through August 30
During its premiere run at Playwrights Horizons in 2013, some audiences found The Flick too challenging: three hours stage time, characters who perform humdrum cleanup duties after screenings at a run-down movie theatre in Massachusetts, intermittent periods without any dialogue. But for others, this remarkably assured work that deftly transmutes slice-of-life moments and conversations about movies into a touching, theatrically stimulating work of art, fully deserves its 2013 Obie Award for writing and the 2014 Pulitzer Prize for Drama. A commercial transfer from Off-Broadway to Off-Broadway is a rarity these days and it's a great opportunity for theatergoers to catch up with an outstanding play that probably couldn't survive on Broadway. Learn more and buy tickets.
Information is scarce about Baker's latest play, John, which is a part of the new Signature Theater season. What we do know is that the play is about a young couple who are struggling to stay together in a Gettysburg, Pennsylvania, bed-and-breakfast and that the cast features Georgia Engel and Lois Smith. But for anyone familiar with this playwright's previous work — Body Awareness, Circle Mirror Transformation, The Aliens — it should simply suffice that it is a new work by Baker and is directed by her frequent collaborator Sam Gold (Tony nominee for Fun Home), who also directed The Flick.
Photo: Aaron Clifton Moten, Louisa Krause, and Matthew Mayer. Credit: Joan Marcus.
Top photo: Jesse Eisenberg & Kunal Nayyar in The New Group production of The Spoils. Credit: Monique Carboni.