Valentine's Day is just around the corner and after spending the holiday away from theatre last year, heading to Broadway this February is the perfect way to make this year's holiday stand out above the rest. Want to treat your loved one to a Broadway show this Valentine's season? There are plenty of romantic options to choose from! From far-off kingdoms to fantastical lands, these Broadway shows are the best way to spend Valentine's Day.
---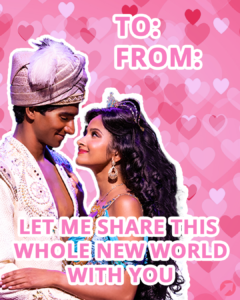 One of the most beloved love stories, Aladdin brings the iconic Disney film to life, with Aladdin and Jasmine sharing "a whole new world" with the New Amsterdam Theatre audience. Featuring the sweeping tunes by Howard Ashman and Alan Menken you know and love, take your prince, princess, or royal vizier to Agrabah for the evening.
---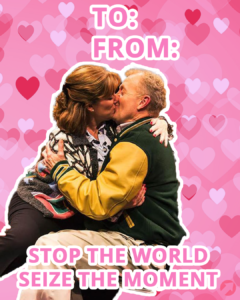 A story that centers around the love shown to strangers in a trying time proves that love can come in all shapes and sizes. Yet if you still want a traditional love story, Come From Away has it! Two of the central characters in the piece, Nick and Diane, have a love story that unfolds throughout the musical, inspired by the real-life story of the couple. Be a Newfoundlander for the night and make a trip to Gander at the Gerald Schoenfeld Theatre.
---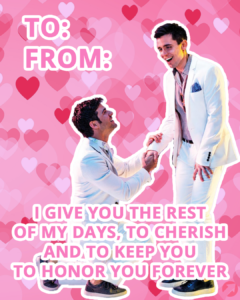 Even if you're "not getting married today," spend the season of love with "lots of company" at the Bernard B. Jacobs Theatre. Company revolves around the single Bobbie, surrounded by the wacky couples in her life. Be a friend of Bobbie and join the clan of couples in her life for the evening!
---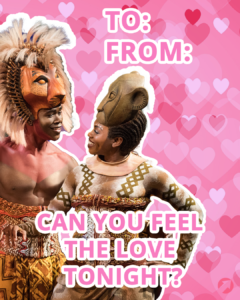 "Can You Feel the Love Tonight" is an Elton John tune sung nightly at the Minskoff Theatre – it's the perfect song to serenade your Valentine's evening, along with the rest of the iconic score. Escape to the Pride Lands with your date and witness the show-stopping "Circle of Life" in The Lion King.
---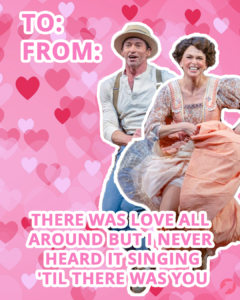 One of the most classic musical love stories has taken the Broadway stage once again with The Music Man now playing at the Winter Garden Theatre. Starring Hugh Jackman and Sutton Foster, River City would be a great spot to take your "Lida Rose" this Valentine's Day season.
---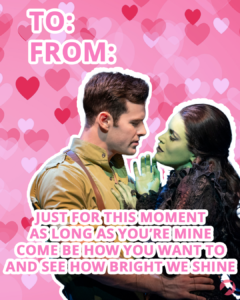 No need to get caught in a twister to get to Oz this Valentine's Day, just head to the Gershwin Theatre! Wicked is now in its 18th smash year on Broadway, telling the untold story of the witches of Oz. The love between friends as well as romantic love is all explored in the thrilling night of theatre. What better way to spend the romantic holiday than "dancing through life down at the Ozdust."
---
Looking for the perfect dinner reservation for Valentine's Day? Check out our dining guide.