This week on Broadway Direct, we brought you behind the scenes with Bradley Cooper, Patricia Clarkson and The Elephant Man.
The Elephant Man is based on the life of Joseph Merrick, known as the Elephant Man due to his physical deformities. The Elephant Man is just one of many Broadway shows based on the lives of real people.
Today, #TGIFTunes brings you a selection of some of the best biographical Broadway shows. From old classics like The Sound of Music and Evita to new Broadway shows like Bonnie & Clyde and Catch Me If You Can, Broadway has often looked to reality to provide excitement on the Great White Way.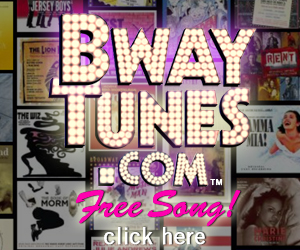 Sit back, relax and enjoy learning about the real people and places that have shaped Broadway throughout the years.
Also, if you hadn't heard, we debuted a brand new playlist last week – Broadway Direct's #NowPlaying! Follow Broadway Direct on Spotify as we update the #NowPlaying playlist each week with brand new recordings, songs from upcoming shows, and some of our old favorites. Check it out!
NOTE: If you already have a Spotify account, you'll be able to listen immediately. If not, you can click the play button below and sign up in the pop up window or go to www.spotify.com to sign up. It only takes a few minutes and it's completely free!