Summer is easily the best time of year in New York City, and we are so excited about everything going on this year! Whether you're a local or visiting for the first time, we're here to help you find all the best things to do in NYC.
---
ENJOY PERFORMANCES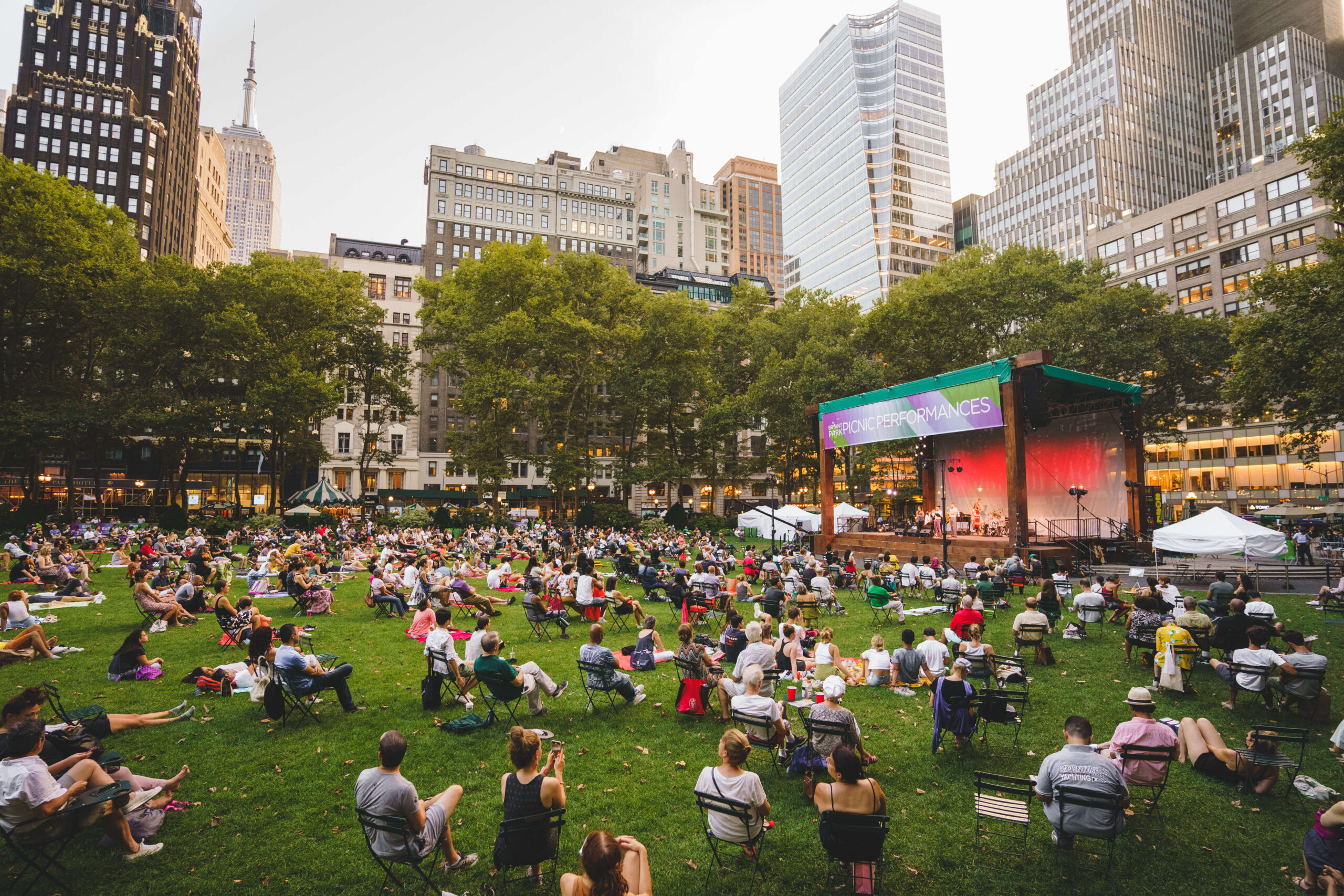 If you want to catch performances out in the fresh air, there are plenty of opportunities around the city in these warmer months. Want to beat the heat? The city's theatres are mighty cool too.
Bryant Park Picnic Performances
Every summer, Bryant Park hosts a series of live music, dance, and theater events. This year, the park will produce 26 performances in partnership with New York City's performing arts institutions, including Joe's Pub, The Town Hall, and Carnegie Hall. All events are free to attend and will take place on Friday evenings throughout the summer. Visit Bryant Park's website for the full lineup.
Times Square Live
The Times Square Alliance is partnering with the theater community to bring performances and more to their plazas this summer. This month's programming includes a series of Pride events including a Pride Piano Bar and the Big Broadway Disco. Plan on stopping by Duffy Square (between 45th and 47th Streets) to enjoy these free events. You can view a full schedule HERE.
See a Broadway Show
Take a trip to the theatre to soak in a play or a musical, and enjoy the AC while you watch! Looking for last-minute tickets? Many shows now have online lotteries where you can enter for tickets. Check out what is available through Broadway Direct HERE.
---
VISIT AN EXHIBIT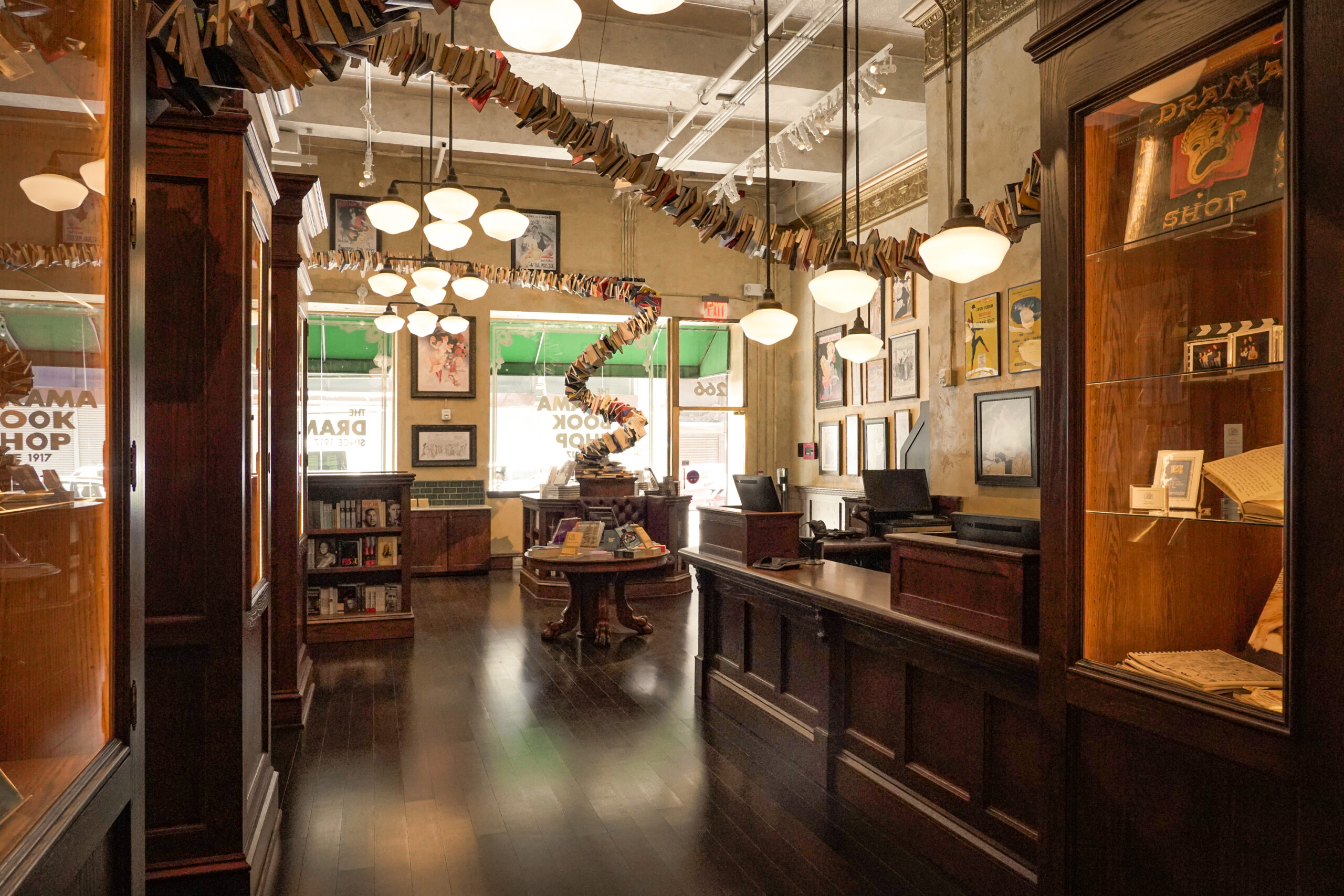 Searching for some theater-themed mementos and pieces of history? Pop into one of our favorite stores or museum exhibits.
The Drama Book Shop
The Drama Book Shop, the iconic hub of the NYC theater community, has finally reopened at its new home designed by Hamilton scenic designer David Korins. Check out the 140-foot-long bookworm, relax and enjoy a new play, or get a coffee at their in-store cafe. Visit the Drama Book Shop website to learn more.
266 W. 39th St., New York, NY 10018
The New York Public Library's Treasures
In a historic first, the New York Public Library has opened a permanent exhibition. The treasures exhibit features some of the most iconic pieces from their collection, including the original Winnie-the-Pooh and Thomas Jefferson's draft of the Declaration of Independence. You can reserve free timed-entry tickets HERE.
476 5th Ave., New York, NY 10018
Broadway Makers Marketplace
The Broadway Makers Marketplace is a pop-up shop dedicated to small, theater-loving businesses. All of the memorabilia sold in the store is made by members of the Broadway Makers Alliance, a group of theater professionals and superfans alike. They also offer free events, like Musical Mondays, and an exclusive Broadway talk show.
Turnstyle Underground Market, 1000 8th Ave., New York, NY 10019
---
SEE THE SIGHTS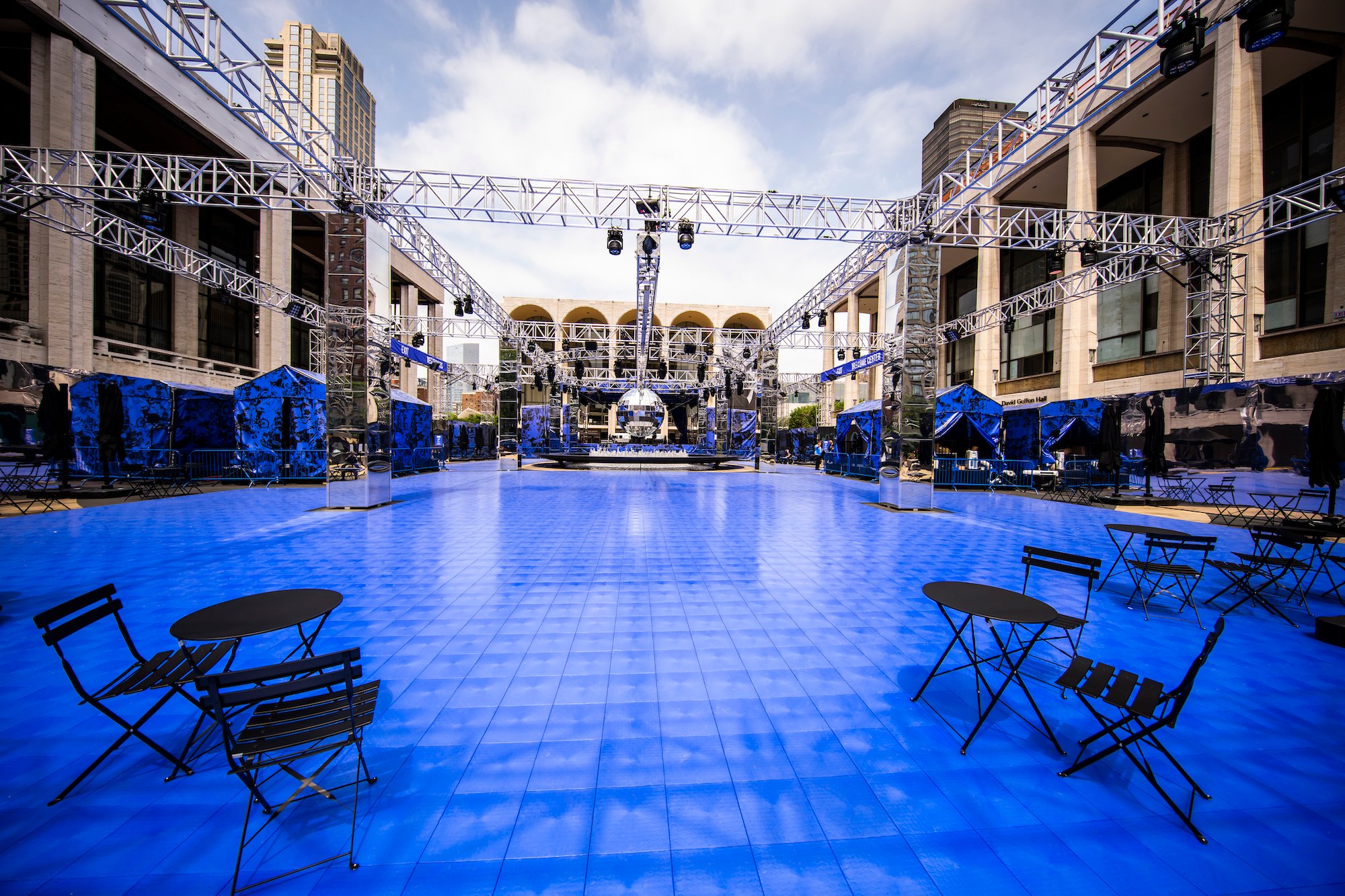 New York City has many iconic spaces, from historic performing-arts centers to beautiful parks. Below are our favorites.
The Oasis at Lincoln Center
Lincoln Center's Josie Robertson Plaza has been transformed into New York's largest outdoor dance floor, created by Slave Play set designer Clint Ramos. Complete with a 10-foot disco ball, this installation invites people of all ages to come celebrate. The Oasis is open to the public from 8 a.m. to midnight, so you can dance under the stars (literally!).
Little Island
New York's newest public park, Little Island, is a 2.4-acre space on the Hudson River. They have free events throughout the summer, including performances on their outdoor stage, the Amph. It is open to the public daily from 6 a.m. to midnight, and you can visit the Little Island website to book timed-entry reservations.
Battery Park
Located at the very bottom of Manhattan, Battery Park gives you a 360-degree view of skyscrapers, the Hudson River, and the Statue of Liberty. Attractions include the SeaGlass carousel, an aquarium-themed carousel enclosed in a glass pavilion. The park is not only on the waterfront, it also features almost 200,000 square feet of flower gardens. The river breezes make it the perfect summer destination.
---
CATCH A MEAL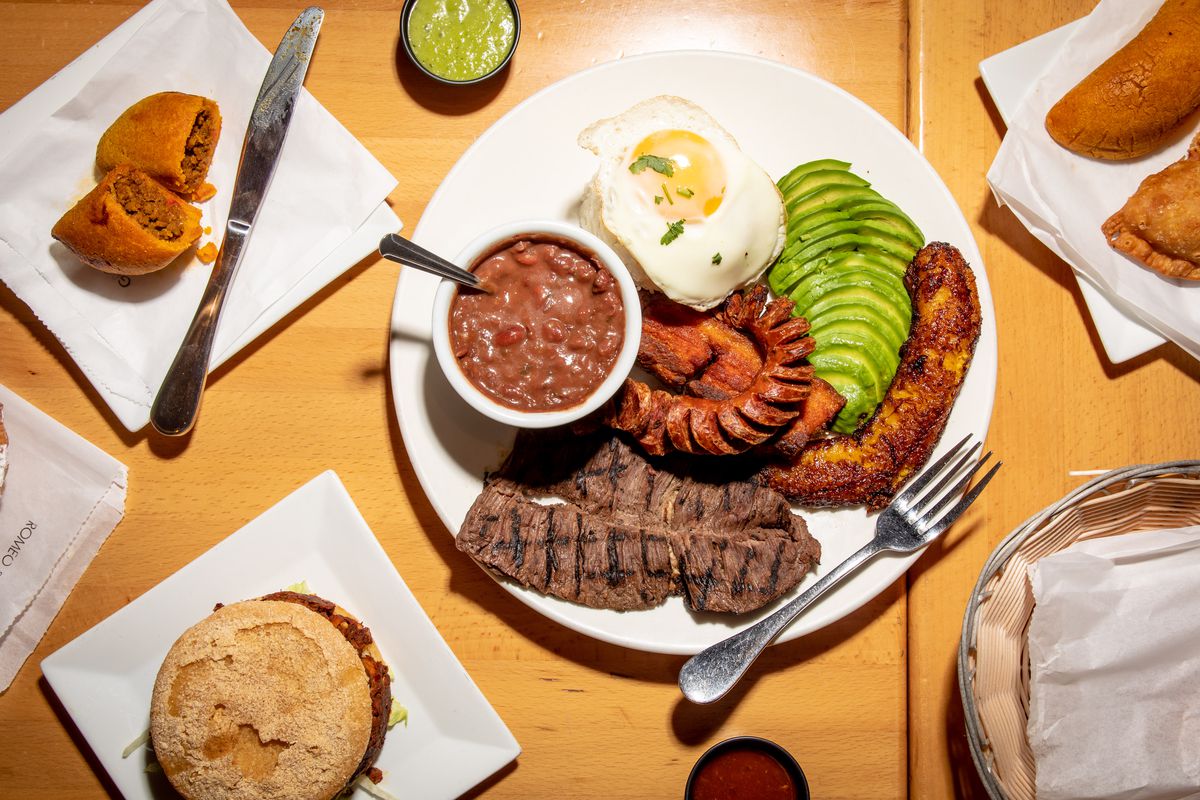 When in doubt, grab a bite to eat. Below are some of our favorites around the Theatre District. For more recommendations, check out our Ultimate Broadway Dining Guide.
Glass House Tavern
Located on 47th Street next door to the Brooks Atkinson (soon to be Lena Horne) Theatre, Glass House Tavern is a theater staple featuring a classy menu and contemporary vibe. Whether you're grabbing a casual bite before a show or treating yourself to a prix fixe dinner, they are sure to impress.
252 W. 47th St., New York, NY 10036
Empanada Mama
This Hell's Kitchen restaurant takes an innovative approach to Latin American cuisine. They offer more than 40 different kinds of empanadas and an extensive cocktail menu. It's open 24 hours, making it the perfect spot for a late-night bite.
765 9th Ave., New York, NY 10019
The Mean Fiddler
Whether you're looking for bottomless brunch, happy hour, or a boozy dinner, The Mean Fiddler is the perfect spot. It's an Irish pub with a nightclub ambiance, complete with a live DJ and sports bar–style food. Make sure to come here next time you need a preshow buzz!
266 W. 47th St., New York, NY 10036
---
TAKE A TOUR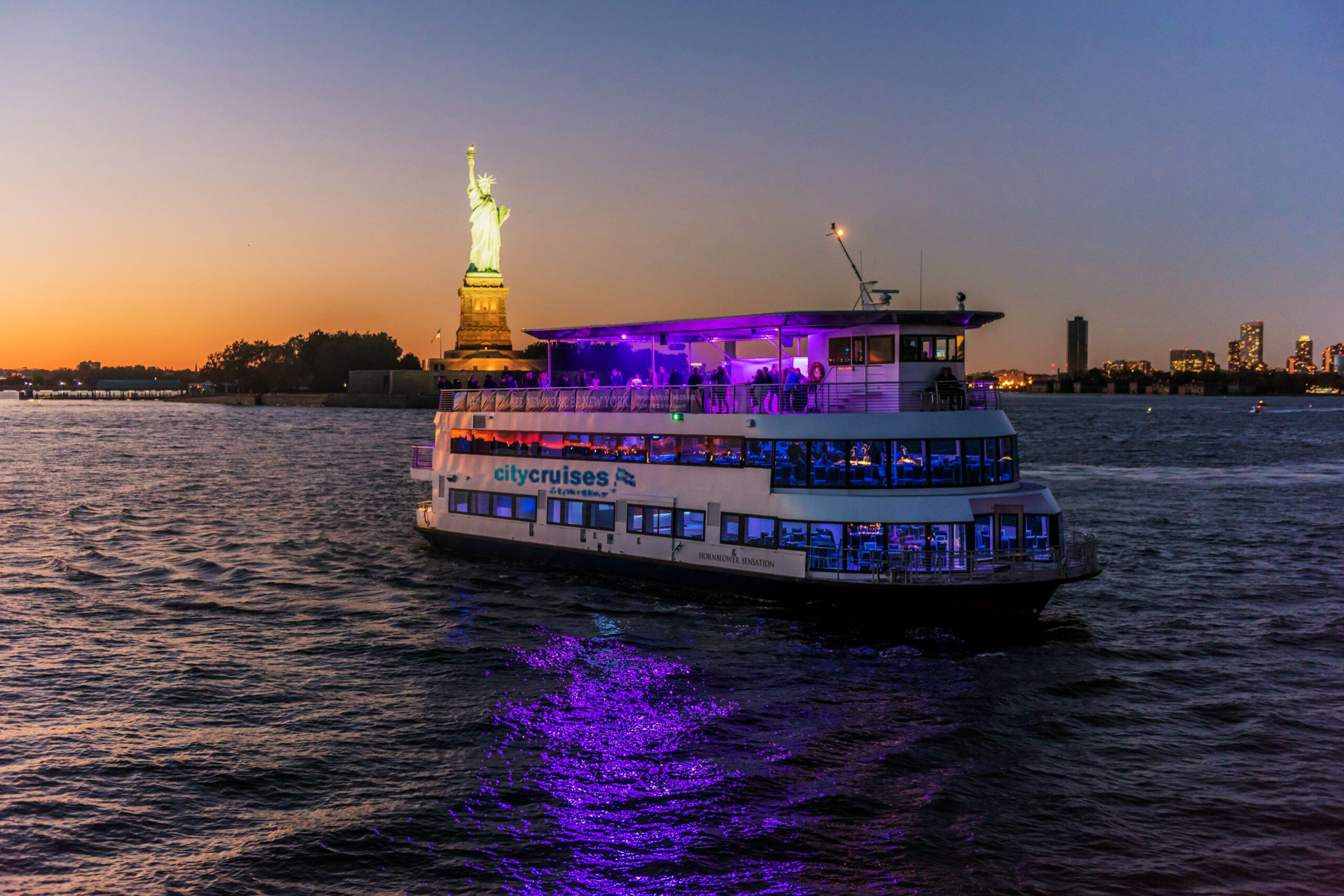 Seeing everything in New York City in one trip can seem overwhelming. A great way to see everything you want is to take a tour. Luckily for visitors, the tour options in New York are endless.
Boat Tours
One of the best ways to experience the NYC skyline is on a boat! There are many options out there, including the Circle Line and City Experiences tours. The NYC Ferry, operated by the city, costs just $2.75 per ride—the same as the subway.
Walking Tours
From food tours to ghost tours, there are a slew of ways to see the city on foot. For the theater fans out there, Broadway Up Close offers walking tours of Broadway. There are even themed tours for everything from Sex and the City to The Marvelous Mrs. Maisel.
Bus Tours
Bus tours are great for large groups and tourists who may not be up for boating or walking. You can get tickets for bus tours at any major tourist area in the city, including Times Square. Many of these tours will allow you to hop on and off the bus as you move through the city.